Same Map, but from Yahoo
2007 Bert Avenue -- Austin, TX 78704 -- (512) 441-8988
Directions@HumanPotentialCenter.org
Map to the
Human Potential Campus
Located in south-central Austin, three blocks north of Ben White just off Manchaca
(Use bus #3)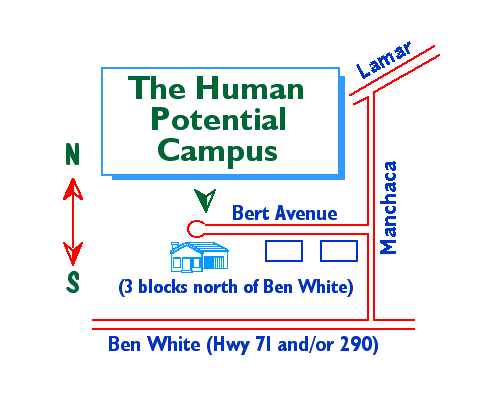 DIRECTIONS
Take the Manchaca exit from Ben White (Hwy 290 and/or 71), and turn north on Manchaca. Bert Avenue is the third street on your left. The Center is at the end of the cul-de-sac on your left. If you have a scheduled appointment or are attending a scheduled event, feel free to walk right in!

Home | Calendar & Events | Services | About the Center | Contact Us/Maps
Want to know more? Just ask us, or call (512) 441-8988.
E-mail comments or questions about this web site to the WebGuru.
This page was last revised on Warning: filemtime(): stat failed for index.html in /Library/Server/Web/Data/Sites/Web Sites/HPC/Footer.html on line 14 December 31, 1969.
Copyright © 2017, The Human Potential Center. All rights reserved.